As seen on the recent TV segment co-hosted by VStylist on FOX 13 Tampa. Here are my picks for 2019 Hottest Summer Beauty products to get you glowing, give you the best skin protection and finish off your summer style fabulously!

Peter Thomas Roth Max Mineral Naked SPF 45 UVA/UVB Broad Spectrum Protective Lotion
Take sun protection to the max with new luxe, lightweight lotion. Max Mineral Naked SPF 45 contains all-mineral Zinc Oxide and
Titanium Dioxide with broad spectrum SPF 45 protection, and a universal tint that goes on "naked" for all skin shades. The sunscreen also
contains vitamins A, C and E and Sunflower extract to provide anti-oxidant benefits.
Price: $38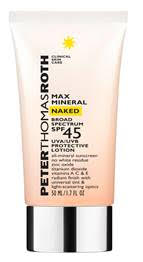 L'Oréal Paris Sublime Bronze Self-Tanning Water Mousse
Instantly gives skin a natural tan look with a sun kissed glow and even finish. No transfer, clear formula, and smell of coconut.
Price: $14.99, Available at mass, food and drug retailers nationwide and Walgreens

L'Oréal Paris Rouge Signature Matte High Pigment, Lightweight Lip Ink (Parisian Sunset Collection)
An innovative, lightweight matte lip ink that delivers the no makeup feel of a stain combined with the color impact of a liquid lipstick.
This ultra-comfortable, non-drying liquid lip ink provides lasting matte color and infuses lips with a healthy, even dye of color.
Use the precision applicator to shape and line lips for a precise and perfectly applied lip. Available in 8 Parisian Sunset shades, and 12 signature shades.
Price: $11.99

L'Oréal Paris Telescopic Mascara in Waterproof
This waterproof mascara enhances your lashes with intense length and unique lash by lash separation. The flat side of the
patented flexible Precision Brush lengthens lashes up to 60%, while the comb side of the brush precisely separates lashes for a clump-free result.
Price: $9.99

All Nighter Summer Solstice Scented Setting Spray
Summer is filled with spontaneous plans and a go-with-the-flow attitude—nobody has time for makeup meltdowns.
With the limited-edition All Nighter Summer Solstice Scented Setting Spray, your makeup will go all day and last all night while
encapsulating the ultimate tropical scent, with notes of crushed pineapple, coconut, and a sea salt breeze. Made for all skin types,
All Nighter Setting Spray is oil-free, paraben-free, and made with Temperature Control Technology, so your makeup looks freshly
applied for up to 16 hours.
Price: $33 ($15 for travel-size)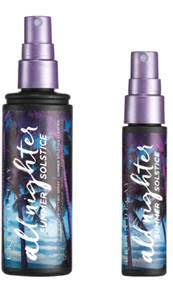 Kérastase Soleil Collection
More than 30 years ago, Kérastase was inspired to counteract summer-specific hair care challenges by inventing advanced sun
protection for hair. This summer,Kérastase is bringing its iconic Soleil Collection stateside. The collection features deeply penetrative
ingredients and is packed with luxurious, nutritional oils with an unforgettable, sensorial fragrance, leaving hair with a high gloss finish
and keeping it healthy and radiant throughout the sexiest season.
Soleil Bain Après-Soleil

: A clear cool gel that removes residual salt, chlorine and sand while deeply hydrating the hair fiber, protecting

against the sun and restoring smoothness.

Soleil Masque Après-Soleil

: Intensive hydrating mask for sun-exposed hair that nourishes hair fiber and balances the harsh effects of summer

elements through anti-oxidizing properties.
Soleil Crème UV Sublime

: A summer staple that provides all-day anti-humidity protection and intense hydration in

a pearlescent cream. Counteracts dryness and breakage and protects against external environmental aggressors.
Soleil Huile Sirene

: The collection's new hero product, this bi-phase formula accentuates mermaid waves without the crunch through

a unique hybrid of both a texturizing spray and a hair oil. Doubles as a nourishing treatment for protecting hair against humidity and

the sun's rays while enhancing hair's natural texture.
Price: $33-$59
Fan/Face of the Collection: Hanalei Reponty, professional surfer


Lime Crime Limited-Edition Venus XS Sunkissed
Overexpose your eyes with Sunkissed Venus XS Palette! Mix and match from four warm bronze and pop-of-color eyeshadows in three finishes -
matte, shimmer, and foil - for a wave of summer heat eye looks. Sail into sun waves when you create golden hour ready blends in bright orange,
vibrant yellow, bronzy shimmer, and rosy champagne shimmer shades.
Rays

: bright yellow matte

Bronzed:

bronze shimmer

Sunset:

bright orange shimmer

Spritzer:

rosy champagne shimmer
Price: $20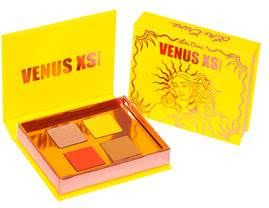 Lime Crime Limited-Edition Plushies Glow
Glow with the flow and warm up to Sunkissed Plushies Glow soft focus lip veil. Perfect for summer beauty, the formula features a
touch-proof finish to ensure no-hassle all-day wear. Lips will feel comfortable and breathable in the long-wearing formula which dries
down completely for a smudge-proof finish.
Ambrosia

: golden orchid

Coco Froyo

: light warm bronze

Popsicle:

sunset orange
Price: $20 each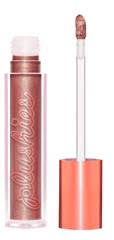 Lime Crime Limited-Edition Sunkissed Face Palette
Sun's out, cheeks out! Sunkissed Pressed Face Palette is a must-have from sunrise to sunset. Mix and match from six neutral and
bright soft powder face shades in two finishes - matte and shimmer - for a complete kissed by the sun look. Burst like a ray of
sunshine with the buttery, lightweight, and blendable powder pigments. Create customized sun-on-my-skin cheeky looks bronze, blush and glow.
Golden Daze

Sun Daze

Salty

Malibu

Sizzle

Bask
Price: $44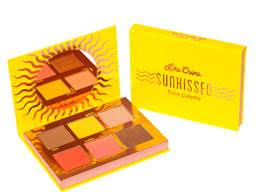 Huda Beauty Resting Boss Face
The brands first setting spray has finally arrived – Resting Boss Face, inspired by the classic hairspray hack that drag queens swear by to set their makeup, guarantees to keep the cake face in place. Resting Boss Face delivers a layer of ultra-fine mist evenly across the face for a comfortable, matte finish without leaving your skin feeling dry. Widely known for next-level makeup and RuPaul Drag Race stardom, Farrah Moan, Shea Couleé and Violet Chachki (also known as "The Queens") came through for Diva Queen, Huda Kattan, to help her show just how powerful the ultra-fine mist really is. Shake well before use and keep eyes and mouth closed during application. Hold setting spray roughly 8 inches away from the face before applying. Mist face 2 to 4 times in a circular motion after makeup has been applied. Huda's Tip: Spray product directly onto a beauty sponge.
Price: $33; Available on ShopHudaBeauty.com

Huda Beauty N.Y.M.P.H. (Not. Your. Mama's. Panty. Hose)
Huda Beauty's first ever face and body product, this luminous skin-finisher promises to give the most flawless summer legs that feel smooth and hydrated – without streaks or harsh lines. Originally inspired by Beyoncé's gorgeous legs while on stage, Huda wanted to take a modern twist on the pantyhose look with this launch. The water-based formula can be used all over the body to blur the look of imperfections, leaving you with a sun-touched shimmer that is both water and transfer resistant. Huda's Pro tip: use under foundation as a primer for an immediate facial-like glow. Available in three ultra-pearlescent shades and named after Roman goddesses: Aphrodite, Aurora & Luna.
Price: N.Y.M.P.H. - $49; N.Y.M.P.H. Blur & Glow Brush - $33; Available on ShopHudaBeauty.com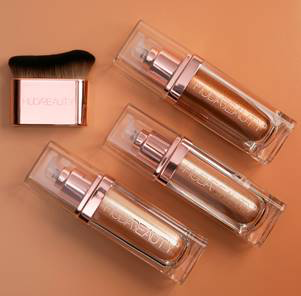 Huda Beauty Power Bullet – The Icons Collection
After much success with the original collection, Huda Beauty is expanding their Power Bullet Lipsticks with the Icons Collection. 8 new shades of their most intense lipstick ever chosen by Huda herself. Huda and her team dedicated two years to thoughtfully developing the perfect matte bullet lipstick that would out-perform all the rest. Each shade delivers consistent quality and application owing to a unique formula that promises to saturate lips in rich color with just a single stroke. The innovative full-coverage formula leaves lips feeling smooth and hydrated, for the ultimate in matte comfort. The unique diamond-shaped bullet was designed for easy application and layering - the pointed tip can be used to contour and line lips, while the flat base fills large areas evenly with ease.Available in eight shades: Anniversary, Bachelorette, El Cinco de Mayo, Honeymoon, Promotion Day, Spring Break, Staycation & Rendez-vous.
Price: $25; Available on ShopHudaBeauty.com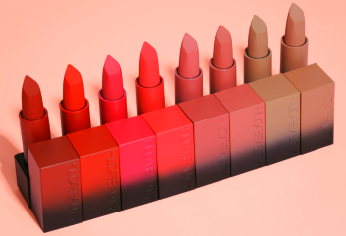 Naturally Serious Mineral Sun Defense Moisturizer – Broad Spectrum Sunscreen SPF 30
This unique SPF 30 UVA/UVB broad-spectrum mineral sunscreen and moisturizer offers complete protection from aging UV rays, infrared, and blue light. Avocado oil and shea butter work to soften and sooth the look of dry, dehydrated skin. Zinc oxide and titanium dioxide provide all-mineral sunscreen protection along with SunBoost ATBTM Natural, a blend of argan oil, vitamin E, and bisabolol. InfraGuard, a complex of sunflower sprouts and antioxidants helps to prevent photoaging. Unlike other mineral sunscreens, this formula does not leave a white film on the skin - the universal tint works for all skin types.
Price: $34, Available on NaturallySeriousSkin.com
Gift Sponsored blog