Being honest about fashion is part of a personal fashion stylist's job. Well I'm sharing my opinion about a fashion brand that has spread like wildfire amongst women who enjoy the ease of a basic capsule wardrobe. A wardrobe that comes in the same shapes and cuts which rarely seem to change but, appears the only variables in the fashion line are the textures, patterns, prints and colors. Lularoe is the brand I'm referring to. Carrying popular styles such as the Ana, Amelia, Carly dresses, Azure skirt, Gigi tshirt and those saught after leggings.
I found the Lularoe collections difficult to praise as most of the prints remind me of curtains and bed sheets out of a Southern Homes magazine which left me wondering; How can anyone possibly style these garments to flatter themselves? It wasn't until I met someone who invited me to view the fashions up close and choose a few pieces to wear when I realized, there may still be hope for these clothes. The key to looking stylish in Lularoe is knowing how to choose the pattern and print in the proper silhouette for your body. My stylist mindset also suggests, avoid mixing pieces within the collection, unlike shown on their website. Fabrics should be worn in proportion to each other, do combine them with edgy outerwear or trendy items for balance and creating a more modern ensemble.
Whether you're a fan or just thinking about trying it out. Take a look at how I put a few fall outfits together, wearing LulaRoe.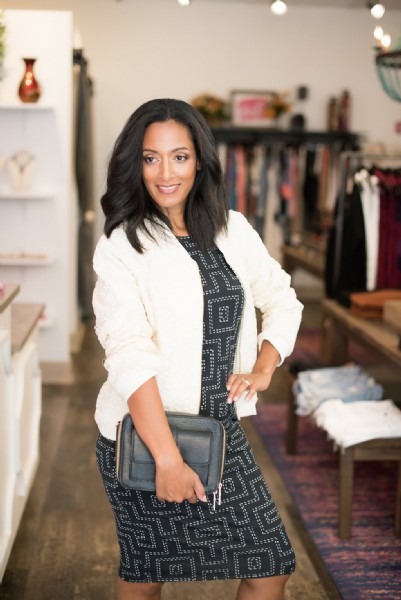 Style tip: Choose 2 tone prints & wear from work to after hours
Julia dress (Sabrina Yarde LulaRoe) + bomber jacket (Scout & Molly's Boutique Hyde Park Village)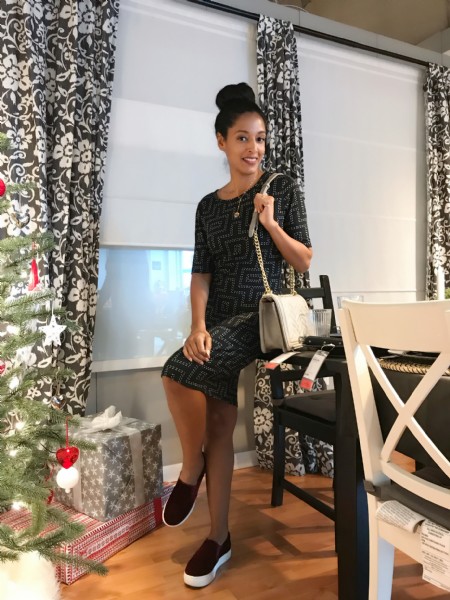 Style tip: Don with sneakers + chain strap purse for chic casual everyday wear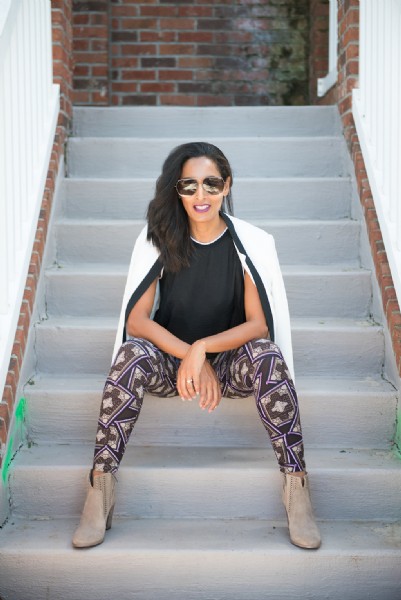 Style tip: Choose dark print leggings(Sabrina Yarde LulaRoe) + white tux blazer
Vince Camuto booties, Quay Australia sunglasses: Scout & Molly's Boutique Hyde Park Village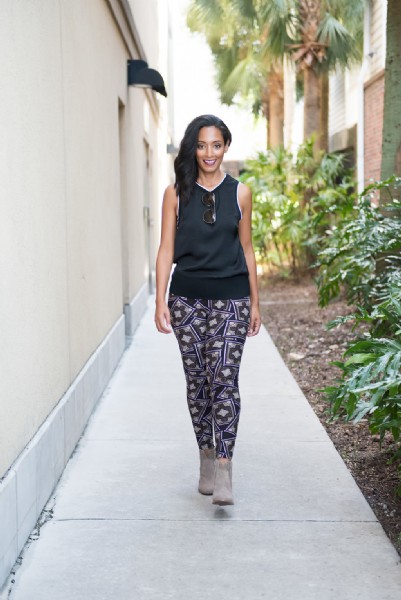 It's my goal to help you feel confident in what you wear. Consulting, personal shopping and personal online styling are available at your convenience or gifting to someone you love.
Photos by Janet Ramos Photography
Sponsored ad blog
VStylist is also a lifestyle. Follow on Social Media!