An individual's personal style has a lot to do with upbringing, culture, lifestyle and location. I truly believe embracing yourself as a whole; body plus all of the above factors included is the way to finally feeling satisfaction about your personal style. So I'm sharing a background blurb about how I've embraced my style.
Before I began fashion consulting, I took my own journey to finding what I love, what styles made me feel great, why they made me feel great as well as finding out out how what I wore gave me the confidence to reach the places in my life I wanted to reach. In addition, my own closet wardrobe had a vibrant effect in my personality.
I was born in the island of Puerto Rico where I lived until age 7. At which point I moved to New York with my parents and sister. In NY is where I learned the english language and my love for 80s music began. There, I found my passion for fashion from a subsciption to LA Girl Magazine at the age of 10. To my surprise, at 14 I moved back to my birth place of Puerto Rico and realized how much I really loved the latin culture of PR. With that said, I recognize my style is a blend of classic items, color in the garments, glam and a dash of fun elements here or there. I don't mind trying something edgy, just what a hispanic gal does.
One local designer brand, Noka Posh captures the essence of my latin roots with flirty movable pieces a lady can wear to dinner or to dance the night away. I couldn't resist dressing up the Noka Posh off shoulder top with ruflled hem jeans to create that sassy latin vibe for a night out on the town. The dresses on her website also carry a dance flare. Even better to know, such good quality pieces are manufactured in Tampa, Fla just how I like it which is supporting local small business. With her keen sense of style, the brand's designer, Tatjana Sladojevic-Konjanovski brought the skills she aquired from Serbia and built her business after migrating to the US. It's a fabulous feeling to wear fashion that's been crafted by another strong lady.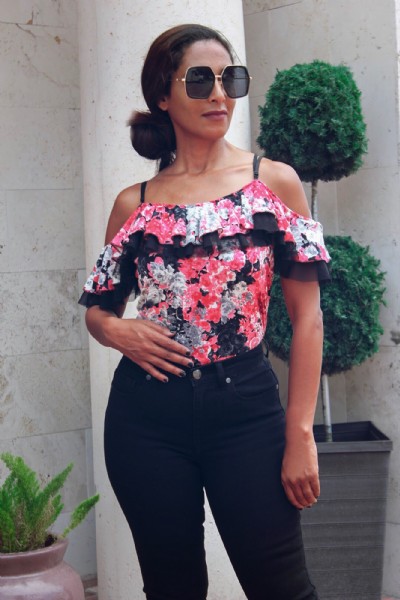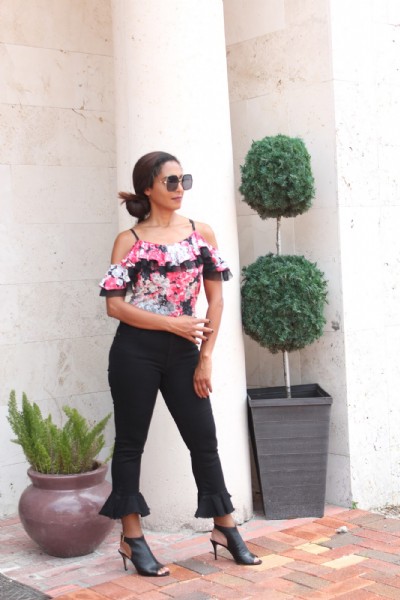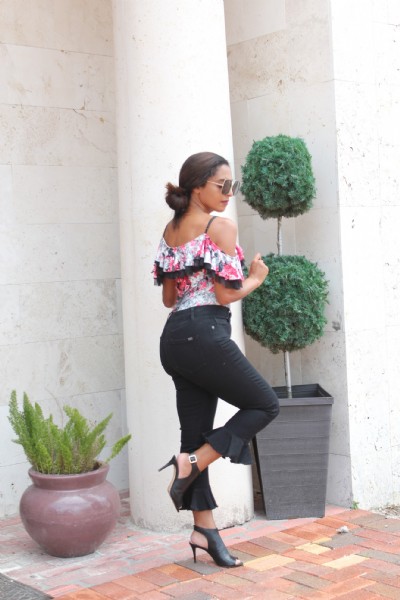 Diane Gilman ruffle hem jeans
Embracing my style has given me so much fashion freedom. You can do the same; Contact VStylist if you need a lending hand.
partnership blog